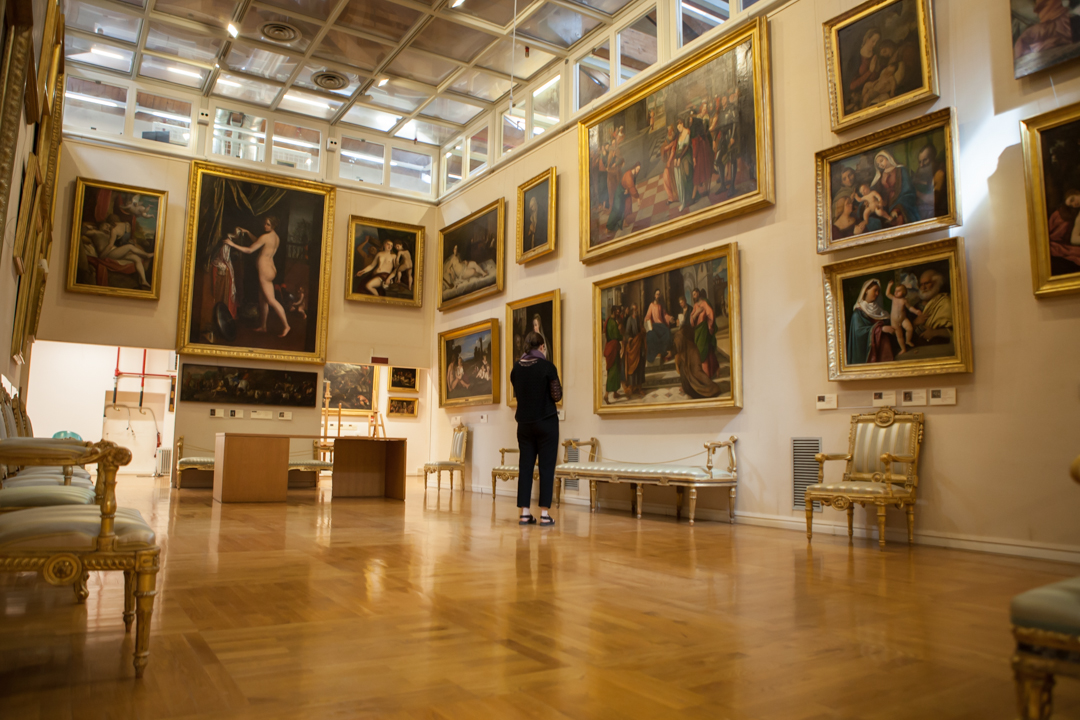 ---
The Storerooms
A picture gallery to be discovered
---
The Galleria Borghese is the only museum in the world to boast storerooms conceived as a real picture gallery. Thanks to a generous donation by Crédit Suisse, in 2005 a "second pinacoteca" was created on the third floor: a bright space – organized by schools of painting and subject matter, with complete display apparatus – regularly open to the public. Housed here are the works of the collection for which there is no space on the two lower floors, which the structural and decorative renovation of the late 18th century altered with respect to their arrangement under Cardinal Scipione Borghese, with the consequence that it is no longer possible to display the entire catalogue of works there.
About 260 works are displayed on two levels in the large storage area. In the external corridor there are large canvases painted by Raphael's followers, including the splendid Madonna with Child by Scipione Pulzone, a Venus on a black background by Baldassarre Peruzzi, the Madonna with Child by Perin del Vaga, and a copy of the famous Alba Madonna in the National Gallery in Washington, D.C.
Along the walls of the middle room, dedicated to the 16th and 17th centuries are displayed, among others, the Sleeping Venus by Girolamo Pennacchi; the Christ Carrying the Cross, a majestic painting historically attributed to Sebastiano del Piombo but currently to Giovanni De Vecchi in consequence of its recent restoration; Joseph tells the meaning of the prisoner's dreams and Saint Rocco, probably conceived when the painter was working in the Palazzo Borghese in Campo Marzio; some paintings by the Caracci and the Three Ages of Man, after Titian, by Sassoferrato.
In the middle room is located the Entombment of Christ by Passignano, on the upper floor is the Flagellation of Christ by Giovanni Baglione, the biographer of Caravaggio. Smaller paintings are exhibited in the display cases. Standing out among these are a collection that is remarkable for both its specificity and its quality, consisting of the splendid oils on paesina stone by Antonio Tempesta, The Taking of Jerusalem and Fantastic Landscape; Florentine-school inlays of semi-precious stones; and precious landscapes on copper and alabaster, characteristic of the taste of the period's collectors.
TOURS OF THE STOREROOMS
---
Works in the storerooms
---